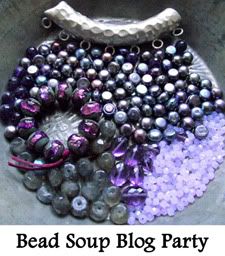 And I'm so excited! It's going to be a lot of fun to stretch myself creatively and emotionally too. I've been in a rut for quite a while. I work all day and come home emotionally drained, not wanting to really do anything. I started making conscious choices about a year ago to make changes in my life, drastic change is necessary (especially as I approach 50). It seems that I take a step forward and several back, but at least I'm moving right? I intend to move forward toward a more positive place and shovel the crap out as I go.
I have been paired with
Marci Brooks
of
Moose Petals
. I am so excited to get to know her (more on why in a later post)! I sent my introductory email to her last evening and await her reply. I'm pondering heavily what I'll be sending to her, I want the package to be special.
I especially want to thank
Lori Anderson
our party hostess (with the mostest!). Thank you Lori!! It is a herculean task that she has willingly and with an open heart taken on. There are 363 participants in this blog hop. THREE HUNDRED AND SIXTY THREE!! Lori does this all free of charge and has spent days and days and days (and days) looking at the participants blogs and doing her best to carefully match up participants. She's lost a lot of sleep over it (and she doesn't even charge us to participate!). I HEART HER!!
I'll post the beads I receive when I receive them & I'll post the beads I send to Marci once I know she's received them!